10 DAYS
DALLOL AND ERTA ALE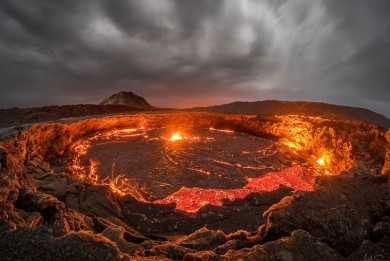 Tour code: IETT-024
10 days tour
Tour guide
Transport: Land
---
Adventure tour to Dallol, Erta Ale and the Danakil depression
---
Detailed
timeline

for the Tour
Arrival at Bole International Airport. Greeted by IETT guide and driver, transfer to hotel for check-in. City tour of Addis Ababa including the panoramic view point Entoto Mountain,merkato, said to be Africa's largest market of its kind, and the National Museum (home of Lucy, hominid skeleton dating back 3.2 million years) and the ethnographic museums. In the evening, traditional Ethiopian dinner with cultural music and dance show. Overnight at hotel in Addis Ababa.

Morning start drive 230km South of Addis Ababa in the rift valley pass the Town Debre Zeith creator Lake and Nazareth town to visit Awash Park with its volcano landscapes and savannah grassland habitat for a variety of bird species. Arrive and check in Late afternoon we explore the Awash National park which is home to mammals such as Oryx, Lesser Kudu, Hammadryas Baboon and Olive Baboon, Vervet Monkey, Salt?fs Dick-dick and more. Overnight at Hotel in in Awash town or lodge in Awash national park.

Drive to Afdera. Morning after breakfast start drive after passing the town and cross the Awash River bridge outside the town we get to the junction where the road forks, straight ahead for Dire Dawa and Harar, and left for Djibouti and the Red Sea. This day we wonder the Rift valley scenery and Afar people and their village. Have lunch at Samara, process our entrance permission and also from here we will have two Police men and one road guide accompany us for the Afar depression continue to Afdera. Overnight camping at side of Lake Afdera or hotel.

Drive to kusrewad here where we arrange the camel to ascend our logistics and for those who wish to ride, Local militia and rock guide apart from those who already with us. Late afternoon start walking to Erta ?eale. Around 5 pm 3 hours trek climb to Erta Ale volcano and overnight on the top of the mountain. Erta Ale is 613 meters tall, with a lava lake, one of only five in the world, at the summit. It is notable for being the longest existing lava lake, present since the early years of the twentieth century. Overnight on the Summit.

Drive to Hammed Ela. Around 9 AM we will be at foot base of the volcanic mountain where our cook and cars camp have our breakfast and drive to Hammed Ela via Kusrewad. This day drive will be the most challenging drive of all day which may be happen to stuck in the Sand and inhospitable weather, we should keep rehydrate to you manage the driving. Arrive Hammed Ela overnight camping at Hammed Ela.

Dallol Salphur spring, Lake Assale Salt Bar and camel caravans. Excursion to Dallol (116 meter below sea level, one of the lowest places in the world) colorful salts mining, visit Lake Assale, follow up camel?fs caravans and walk with the Afar and people from highland. The traditional way of extracting Salt bar, which once used as local currency, packing on the Camel. You?fll see how they prepare their traditional bread, how they travel, communicate & more. It is another unique experience. Back to Hamed Ela. Camping.

Hammed Ela - Mekele. Drive to Mekele via the town of Berhale in the River bed Ascend all way to the Tigrian highland with the camel caravans and stop for photo over the depression. Overnight in Mekelle.

Drive to Kombolcha through beautiful mountain scenery via Alamata-Kobbo on the way visit the Agaw and Amhara people at their village. Stop at Hayk to Island Monastery and then proceed to Kombolcha for overnight.

Returning to Addis through Kemise and Senbete the local towns where Amhara, Oromo and Afar people get together on market days. We will also explore the underground tunnels of the Debresina Mountains and stop at Tarmaber view point to locate the endemic Ankober Serin, Brown-rumped Seedeater, Stripe-breasted Seedeater and Yellow-crowned Canary and the Endemic Gelada Baboon.
In the evening/afternoon, farewell party with cultural dinner and traditional special buffet and local drinks to experience Ethiopia's cultural meals and drinks. After farewell party transfer to Bole international airport for international departure. End of Tour.
---
---