6 DAYS
THE HISTORICAL ROUTE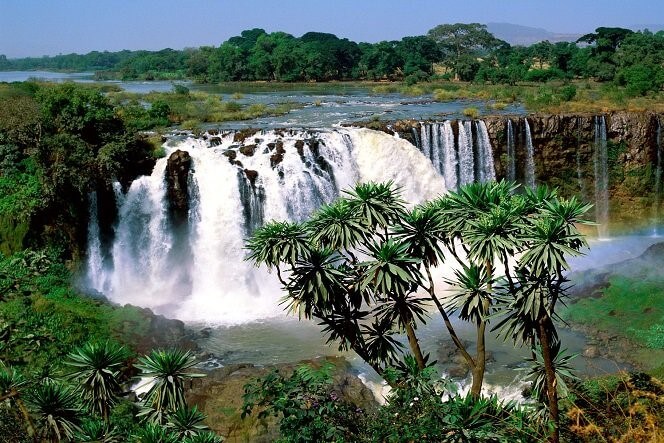 Tour code: IETT-010
6 days tour
Tour guide
Transport: Air and Land
---
Cultural and Historical Tour
---
Detailed
timeline

for the Tour
Addis Ababa - Bahir Dar (Lake Tana and Blue Nile falls)
Fly to Bahir Dar. In the morning take a boat trip on Lake Tana to explore the monasteries hidden on the shores and islands of Lake Tana. In the afternoon depart out of town to the Blue Nile Falls for an easy hike in the area. Finish the day with a lovely sunset over the lake. Overnight in Bahir Dar.

Sightseeing of Gondar
In the morning, drive Bahir Dar north to Gondar. Explore the sites of Gondar, including a visit to the Royal Enclosure, with six castles and several other buildings. Additionally, visit Fasilidas's Pool, still used for Timket celebrations today, Debre Birhan Selassie church, with the most famous ceiling in Ethiopia and Kuskuam, a former palace in a partial state of ruin overlooking the ancient city of Gondar. Overnight in Gondar.

Gondar – Axum
In the morning, transfer to Addis Ababa Airport for your flight to Axum. After check in to Remhay Hotel, you will start to visit the ancient city of Axum.
This is the birthplace of Ethiopian civilization, and by the first century Axum was a major trading center for exotic goods from Egypt, Rome, Nubia, Greece, Syria, and India. The Holy Ark of the Covenant was brought here before the destruction of the Temple, and Axum is reputed to be the second Jerusalem.
Your today's visit in Axum include: the Stele field, Kaleba Tombs, the 4th century Christian inscription of King Ezana, Queen of Sheba's Palace, Archeological Museum, and Tsion Mariam Church where the original Ark of the Covenant is housed. Overnight in Axum.

Axum - Lalibela
In the morning take a flight to Lalibela, the most famous of all of the Ethiopian historical sites. After lunch, begin to explore the 11 rock-hewn churches of the remarkable king Lalibela, visiting the Northwestern Cluster of churches - Bet Medhane Alem, Bet Maryam, Bet Meskel, Bet Danaghel, Bet Mikael & Bet Golgotha. Overnight in Lalibela.

Yimerhane Kirstos - Lalibela
After breakfast, drive to Yimrehane Kirstos. The built-up cave church of Yimrhane Kirstos itself predates the rock-hewn churches of Lalibela by eight years. This is one of the most beautiful built-up cave church, built from marvel, wood and beautifully decorated from inside and outside with untold skill architecture. In the back side of the cave, you will also see many mummified bodies of pilgrims from centuries ago. Overnight in Lalibela.
After lunch, continue to visit the Southeastern Cluster of Lalibela churches – Bet Gabriel-Rufael, Bet Merkorios, Bet Amanual, and Bet Abba Libanos. Finally, visit the most famous of all the churches – Bet Giyorgis, a huge monolithic in the shape of a cross, and constructed in honor of St. George, the patron saint of Ethiopia. Overnight in Lalibela.

Lalibela – Addis Ababa
After breakfast transfer to Lalibela airport and fly back to Addis Ababa. City tour and sightseeing tour of Addis Ababa which includes the National Museum, Ethnographic Museum, Merkato, Trinity Cathedral and Enotono. End of Tour!
---
---